IPNA: Our Non-Alcoholic IPA is Hittin' Shelves
This hoppy, non-alcoholic IPA is heading out to your neck of the woods now. And it's been a long-time coming! Getting IPNA full-flavored & hop-forward (and with low calories), was no small task. Lagunitas spotted a need for an N/A craft beer that's both full-flavored and hop-forward, so we worked hard to get the hoppy flavors up to our standards. Get the full story below.
Weighs Just 80 Calories
Exceeds Hoppy Expectations
How IPNA is Brewed
IPNA is a brewer-led labor of love, taking us over a year to perfect. Inspired by Lagunitas' love of hops and our brewery flagship, this non-alcoholic IPA is brewed with the same ingredients found in our highly-balanced IPAs (hops, malt, yeast & water), and thus the same hoppy deliciousness, but brewed without the ceremonial fez & ancient incantations that take it over the edge. That's all.
Crafted with the Highest quality malts and massive dry-hop of our favorite Yakima Valley hops—Citra, Mosaic & CTZ (Columbus, Tomahawk & Zeus for those acronym-averse)—giving it a uniquely-full body and crazy-big hoppy aroma. Our brewers worked hard to remove the alcohol while keeping the satisfying flavor experience. And…? The taste tells!
Watch the Story Behind this Non-Alcoholic IPA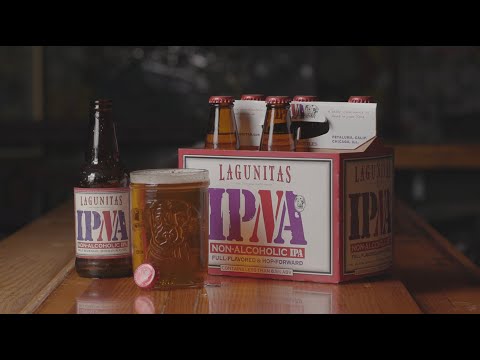 Lagunitas Brewery's History with Hops
As Thee Official Unofficial IPA Brewery™®(patent pending), it just made sense to translate our hop obsession to a non-alcoholic IPA. From going big with hop-forward craft beer in 1993 (when everyone else was going all-in on pale, amber and fruit brews), to spending every year since pushing the boundaries of hop flavors, even into our second-love world of cannabis, we've always looked for new opportunities to enjoy the irresistible satisfaction of hops.
The way Lagunitas sees it: in removing the alcohol, instead of leaving a gap, we found a way to fill that space with hoppy flavor. Yum.
Serving Facts: Serving size: 12 fl oz (354.88 ml); Servings per container: 1; Amount Per Serving: Alcohol by volume: <0.5% alc./vol; Calories: 80; Carbohydrates: 18g; Fat: 0g; Protein: 3g