Our Story
HOW WE SOMEHOW
GOT HERE
The Lagunitas Brewing Company began on a kitchen stove in Northern California in 1993 and has been crafting hop-forward beers ever since. Welcoming the open-minded with open taps and simple truths: Beer Speaks (for itself), Life Is Uncertain (don't sip), and It's Good To Have Friends.
To quote our BrewMonster, "Lagunitas is made up of all kinds and creeds; punk rockers, misfits, ivy leaguers, weirdos, Waldos, Sparkle Ponies, Musicians, and everything in between … Just a pack of stray dogs that found—despite our vast and wild differences—that the love and respect for the freedom to be different is what brought us together and made it all work."
Whether we're supporting local communities by turning beer into money for the cause, or simply fueling stories and songs with IPA and other creations—we always have a spot for you at our bar. Come as you are. And bring your dog, too.
Here's how it all really happened, or at least how we remember it. Heck… we don't remember a lot, so this is at least how we thought it might have gone or something…
1993

So, You Want To Start A Brewery?

In a kitchen just outside the Northern California hamlet of Lagunitas, Tony Magee was crafting beers on a 5-gal. homebrew kit. Then, a ruined Thanksgiving dinner made him take his hobby to a rented room behind the old House of Richards in Forest Knolls, when he started slingin' beers to local watering holes.

1995

IPA is Born

To stand out among the sea of Pale Ales in Bay Area bars in the mid-90s, Tony developed a new-world spin on an old-world style: the India Pale Ale, which he shortened to IPA. Palates at the time couldn't handle the hoppiness, but Tony had a hunch that this was the next big thing…

1995-2005

The Wild Years

Tony quickly outgrew his spot in Forest Knolls and moved to Petaluma. After a few years he needed even more space, so he threw a party and told everyone that showed up to grab whatever wasn't bolted to the ground and walk it across McDowell St. to where we still brew today!

2005

Undercover Shut-Down

We started throwing parties in our Employee Loft at 4:20 which raised some brows, including those of the local authorities. After a failed sting and a 20-day suspension, we installed a new line to bottle our Undercover Investigation Shut-Down Ale. Do the crime. Do the time. Get the bragging rights.

2005-2009

Grow, Grow, Grow Your Boat

People were drinking more IPA than ever as we expanded from state to state and our brand-spankin'-new 80-barrel Rolec BrewHouse started brewing up a wholly original little thing under the sun called A Little Sumpin' Sumpin' Ale…

2009

We Should Throw A Circus

Beer Weasel Ron Lindenbusch had one thought: we should throw a Circus! So the Beer Circus was born. Then, we opened up the Petaluma TapRoom & Beer Sanctuary featuring live music everyday, including some special #LiveAtLagunitas shows in the new LaguMiniAmphitheaterette the following year.

2011

Lagunitas Sucks

When our 250-barrel BrewHouse was destroyed after hitting a storm in the Atlantic, we knew we weren't able to brew our widely feared Winter Seasonal brew, Shugga'. After a flood of calls, we put out a substitute for our disappointed fans, named around their common message: Lagunitas Sucks.

2014

Petaluma, Chicago, Seattle and…

As a native Chicagoan, Tony was looking for a way to return home. With some help from local legend Nick Mirkopolous, he found our second home in Chicago's Pilsen neighborhood, Lagunitas Chicago. A few years later, we cut the tape at Lagunitas Seattle in Ballard… So, where's next??

2015

The World

We partnered up with Heineken in 2015 to start bringing our band of hop-forward IPAs to the world (and beyond?), firing up brewing operations in the UK, Amsterdam, Brazil, and more to bring fresh Lagunitas beers everywhere. We hope to see you in your neck of the woods, whatever planet you're on!

2018

Cannabis-Infused Hi-Fi Hops

Tony always said, "It takes a lot of good weed to make a great beer". After friends & neighbros Lagunitas and AbsoluteXtracts dabbled in a cannabis-terpene beer, they dialed things up to eleven with Hi-Fi Hops, a cannabis-infused hoppy sparkling beverage with nothing weighing you down- zero-calories, zero-carbs, zero-sugar, and non-alcoholic. The best of both worlds.

2018

Hoppy Refresher Turns Heads

In the continued pursuit of crafting previously unimagined liquids, we started R&Ding a dry-hopped zero-cal, zero-carb, zero-gluten sparkling beverage. After some time, we launched it in our TapRooms and it quickly became an employee favorite (and über-boosted productivity!). Thinking we were onto something, we threw it in a bottle and named it Hoppy Refresher. The rest, as they say, is history.

2020

IPNA Launch

Joining our other hoppy, non-alcoholic option of Hoppy Refresher, IPNA was a brewer-led labor of love- utilizing all our hops chops and over a year of R&D. The result? IPNA is pure NA satisfaction. This non-alcoholic IPA uses the same ingredients found in our highly balanced IPAs (hops, malt, yeast & water), and this the same deliciousness, but brewed without the ceremonial fez.

2021

Steep On That

Our spiked & sparkling Guayusa Tea, Disorderly TeaHouse, launched in two flavors, Yuzu Lemon Squeeze and Mixed-Up Berries. A freak batch gets spiked with some peach and quickly becomes one of the top-selling beverages in our TapRooms, so we add the Peach Slice to our newly launched Varie-Tea Pack. A rebelliously delicious, different kind of brew.

2022

A New Look

As we neared our 30th year of brewing edgy brews at the edge of brewing, we noticed our packaging look just didn't quite match the quality of what was inside the bottle. Our incredible in-house creative team got to work on a fresh and beautiful new look, bringing some of the favorite elements of our past with us while pushing us forward into the next 30 (and 300!) years.

2022

Disorderly House of Brewing

Innovation is the name of the game at Lagunitas, and we took a huge leap forward with the creation of our Disorderly House of Brewing right next to our Petaluma TapRoom & Beer Sanctuary. It's a place of wonder where the Lagunitas team of wizard brewers can tinker, trifle, and craft, dreaming up the next best thing in a glass, can, or… who knows?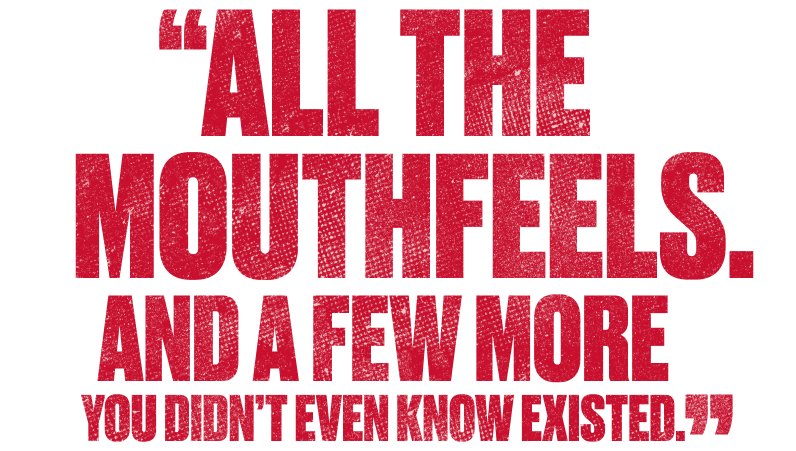 FAQ
Questions about other schtuff?
Wondering how to find our beer? Want to play our TapRoom & Beer Sanctuary? Or just looking to learn about the meaning of life? Head over to our Regularly Inquired Queries page to see if we've got an answer for ya.
Visit our FAQ